Project contact
William McDermott, Project Coordinator
Merle Jasper, Project Officer
Alexandra Preperier, Research Assistant
Linking Good Security Sector Governance and SDG16
About SSG/R and SDG16
Sustainable Development Goal 16 aims to develop peaceful and just societies by building strong institutions, through targets 16.6 and 16.7, which focus on good governance and accountability of public institutions. To achieve the ambitions envisaged under this goal, all states will need to redouble their efforts to ensure that their national security sector is both effective and accountable, and operates within a framework of democratic civilian oversight, rule of law and respect of human rights. However, there is currently limited guidance on how Security Sector Governance and Reform (SSG/R) policies can contribute to achieving SDG16, and in particular targets 16.6 and 16.7 which are crucial for legitimate stability, especially in fragile contexts.
DCAF also provides support in establishing the linkages between security and sustainable development beyond SDG16, including SDG3 on promoting health and well-being, and SDG11 on creating safer cities. More information about this work can be found here.
Project Objectives
This project aims to:
Position SSG/R as a powerful policy tool at the national and international levels for realising SDG16, and in particular targets 16.6 and 16.7, which is a critical goal in the entire 2030 Agenda.

Establish the linkage between oversight actors of the security sector and their contribution to good governance and accountability, within the context of SDG16, as well as providing these actors with the means to realign their strategic priorities with the 2030 Agenda.

Develop SDG16-specific guidance that supports states in the implementation of the 2030 agenda and its subsequent reporting.
This project is funded by the Netherlands Ministry of Foreign Affairs.
Project overview
Thematic and Regional Focus
This project focuses on three different oversight actors of the security sector. Best practices and lessons learnt from various countries and regions are examined and discussed with the aim to provide SDG16-specific guidance that supports states in implementing SSR in the context of the 2030 Agenda.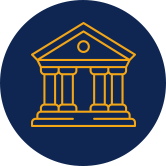 The first year of the project focuses on parliaments as one of the most prominent oversight bodies of the state and their capacity to hold governments accountable for their commitments to SDG16 and the 2030 Agenda. Parliaments play an instrumental role in creating peaceful and just societies, through their five key functions: legislative, budgetary, oversight, elective and representative, and in their authority, ability and attitude to perform these roles.

The regional focus of the project for the first year is Eastern Europe.

Focus on CSOs
Civil society organizations (CSOs) are an important channel through which citizens can participate in the development of public policies concerning security sector and provide non-governmental oversight. The second year of the project focuses on how CSOs can contribute to linking SSG/R to SDG16 within the framework of the 2030 Agenda.

The project focuses on the Middle East and North Africa during the second year.

Independent oversight institutions – or ombuds institutions-  are mandated to receive and investigate human rights violations and cases of mismanagement and corruption in the context of the security sector. This role is also recognized in different SDG targets and indicators. In the third year, the project collects good practices and lessons learnt concerning the contributions of ombuds institutions to the achievement of SDG16.

The regional focus for the third year is Sub-Saharan Africa.