Back
Research Activities
Project contact
Dr. Albrecht Schnabel, Head of Asia-Pacific Unit
Project overview
Tracking the development dividend of SSR
Project supported by the Folke Bernadotte Academy (FBA)
Security sector reform (SSR) is expected to improve both security and development in societies that experience various forms of economic, political and security transitions.Despite the lack of a strong empirical basis, the supposed "security-development nexus" is often seen as a dynamic that produces security and stability as favourable conditions for sustainable development, and vice versa. The presumed SSR-security-development dynamic thus constitutes a weak basis from which to establish convincing, empirically-based conclusions about the symbiotic relationship between security provision and sustainable development. 
This project aimed at investigating and substantiating the assumed relationship between SSR activities and their impact on development prospects in order to reconcile the apparent impasse between development and SSR practitioners. Understanding the linkages between SSR and development would allow the researchers to generalise and produce comparable data necessary to assess and improve the suitability of SSR in helping societies achieve their development and peacebuilding objectives. This project also aimed to develop a shared database that would allow users to save information for their own research needs and facilitate the design and implementation of development-sensitive SSR initiatives. 
Examining the urban dimension of the security sector
Project supported by the Folke Bernadotte Academy (FBA)
The project started under the assumption that the urban environment poses a complex set of conceptual and empirical issues for research on SSG and SSR, possibly pointing to a unique "urban security sector". If there is such a thing as an urban security sector, distinct from a national security sector, issues such as urban planning, urban-focused human security and human development in cities become relevant to security sector reform efforts. Important differences also arise between and among urban environments, requiring one to distinguish "megacities" from other cities, capital cities from non-capital cities, and various forms of urban systems. In addition, the urban security sector dynamics differ depending on whether the city is situated in a developed, developing, fragile and conflict-affected, or post-conflict context. Furthermore, local forms of empowerment must be discerned, specifically in cities plagued by gang violence or corrupt police where the lines between formal and informal security sectors may be blurred.
In light of growing interest and investment in urban safety and security, exemplified by the provisions of Sustainable Development Goal (SDG) 11 -Sustainable Cities and Communities, increasing our understanding of the urban security sector has never been more timely.
The security sector and global health crises
DCAF and the Global Health Centre of the Graduate Institute of International and Development Studies (GHC) are collaborating on a joint project to assess the engagement of the security sector in the prevention and management of global health crises. The project, initiated in late 2014, was triggered by the Ebola epidemic in West Africa, which remained DCAF's main focus and source of lessons to be learned during the different project phases.
As part of the project DCAF has so far organized several meetings, round tables and workshops with security sector and health professionals, including in the margins of the World Health Assembly in May 2015, at NATO Headquarters in Brussels in June 2016 and with the Mano River Union in Freetown, Sierra Leone, in August 2016.
The first workshop in this latest series of joint activities between DCAF and GHC focused on "The Security Sector and Global Health Crises: Preparing for Health Crisis Prevention and Response" and was organized at the Maison de la Paix in Geneva in September 2017. The priority activities for this project phase were
developing recommendations for training modules for health and security agencies, as well as strategies for feeding those into existing and new training
and education initiatives;

developing recommendations for the design of multi-agent and cross-sectoral
simulation exercises of health epidemic outbreaks, and

mapping early analysis and early warning systems for their coverage of health crises.
In the framework of the Geneva Peace Week 2017, DCAF and GHC organized an expert working meeting and a public event on "Global Health Crises and the Security Sector: Opportunities for Constructive Cooperation" at the Graduate Institute in Geneva to officially closure the project's research activity. 
The project team is currently working on a final publication which is going to be uploaded on this website in due course. 
Key Resources

Research Report Tracking development dividend SSR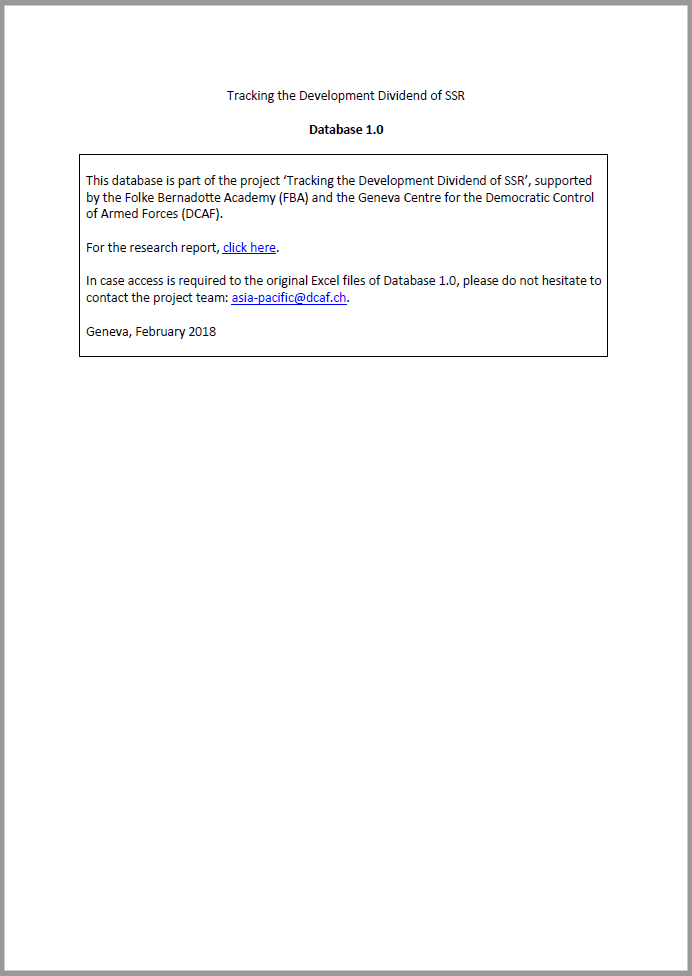 Database 1.0 Tracking development dividend SSR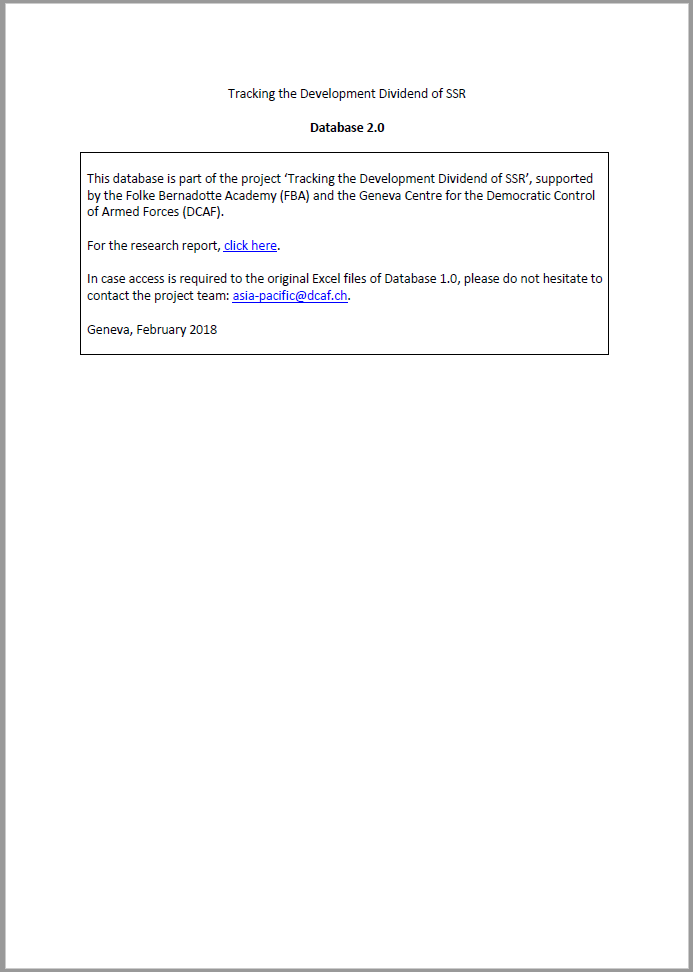 Database 2.0 Tracking development dividend SSR

Research Report Urban dimension security sector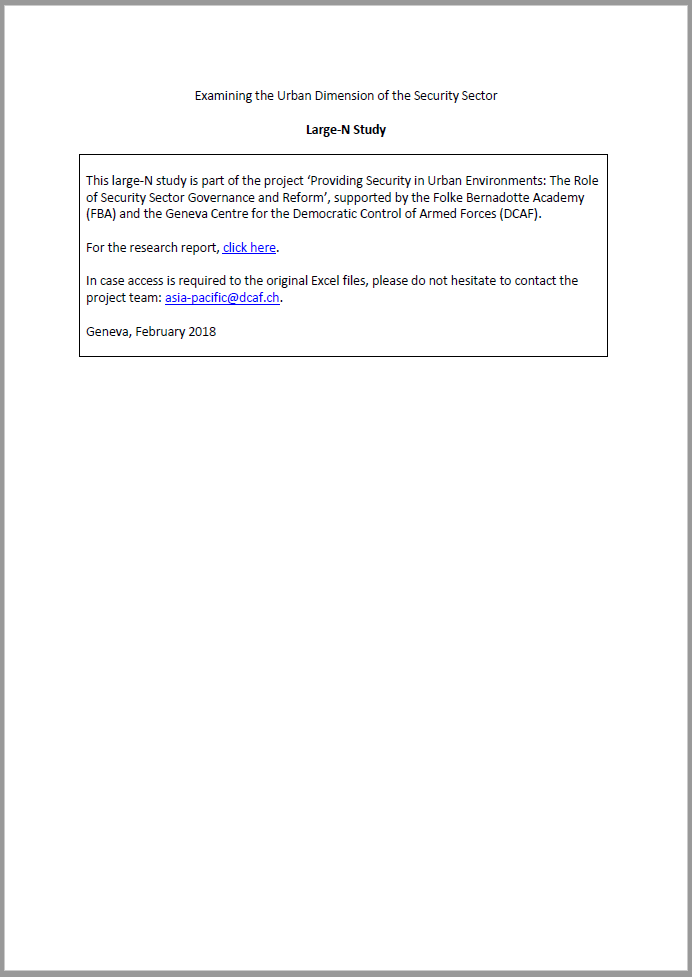 Large-N Study Urban dimension security sector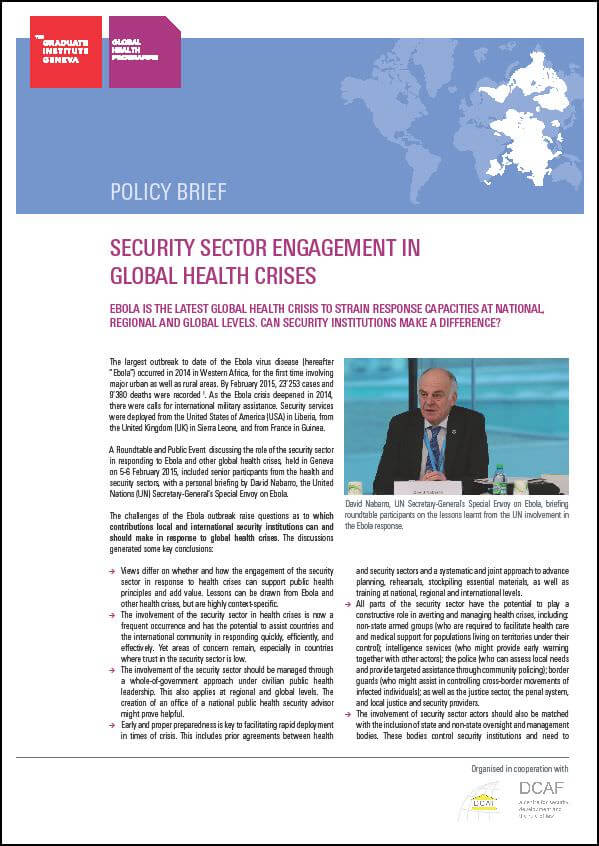 Security Sector Engagement in Global Health Crises: A Brief for Policy-Makers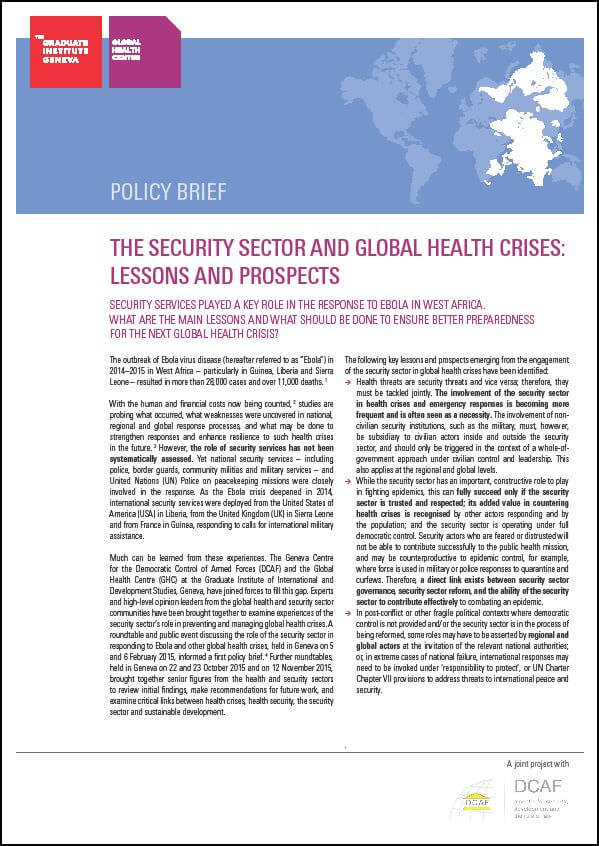 The Security Sector and Global Health Crises: Lessons and Prospects. A Policy Brief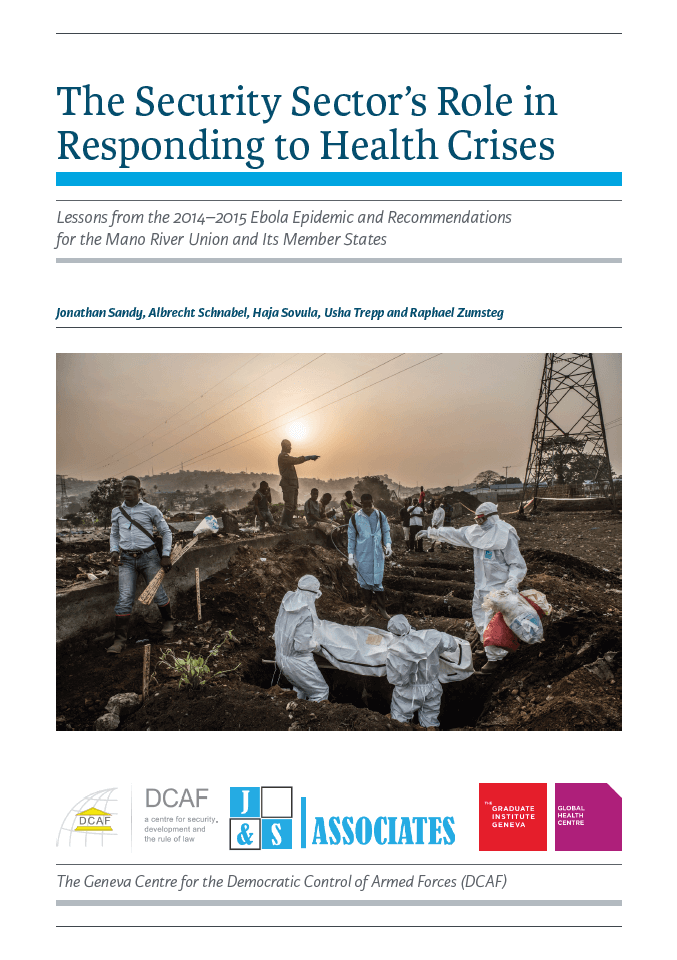 The Security Sector's Role in Responding to Health Crises: Lessons from the 2014-2015 Ebola Epidemic and Recommendations for the Mano River Union and Its Member States
Le rôle du secteur de la sécurité face aux crises sanitaires : Retours d'expérience concernant l'épidémie d'Ebola en 2014-2015 et recommandations à l'intention de l'Union du fleuve Mano et de ses États membres