The Geneva Centre for Security Governance will be present at the World Bank Fragility Forum with three online sessions and one podcast. The event is taking place virtually 7-15 March. More information about each DCAF contribution can be found below.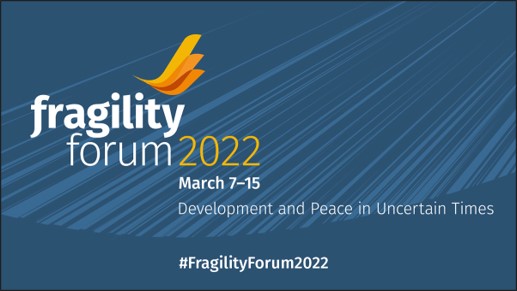 The Fragility Forum is a biennial event that brings together policymakers and practitioners from humanitarian, development, peace and security communities; public and private sector; academia; and civil society. The objective is to exchange innovative ideas and knowledge to improve development approaches in fragile, conflict and violence-affected (FCV) settings to foster peace and stability. 

The Fragility Forum 2022 will explore how the international community can best support countries affected by fragility, conflict and violence in a dramatically changing global landscape. It will revisit some of the key findings of the World Development Report (WDR) on Conflict, Security and Development, look into the evolution of the global response to FCV since then, and consider how to adapt it to new, dynamic contexts.
Registration is open to all and enables participation in all sessions. 
To register for the below events, click here

Monday 7th March 11.30 – 12.30pm EST (17h30 – 18h30 CET): National Ownership in Developing Security and Justice Institutions in Fragile and Conflict Affected States 
Together with g7+, this session brings together speakers from fragile and conflict-affected states as well as international partners, to share lessons on national ownership with the aim to increase awareness of the different contexts and needs. 
National ownership has different dimensions. Security and justice transformation must be grounded on local context and reality.  Development must be conceived and developed by the national authorities, but also with the active involvement of a full representation of the country's citizens to shape the vision of security and justice, including gender, generational, ethnic, socio-economic, geographical, and other diversities. It also implies that the international community respects and empowers this broad notion of national ownership, that they engage and support national stakeholders beyond just Governments and national security and justice institutions, and their assistance should be aligned with local needs. 
This session will help reinforce the commitment of all to uphold the principle of ownership while helping institutional building. In addition, the session will facilitate south-south knowledge exchange and promote exchange of lessons, ideas, opportunities and challenges. 
The session aims to influence practitioners and policy makers how they understand national ownership, encourage peer learning and recognise and incorporate the perspective of challenges and opportunities from the global south on institutional building.
Speakers: 
•    H.E. Mr. Umaru Napoleon Koroma, Deputy Minister of Justice of Sierra Leone 
•    Hon. Chol Thon Balok, Deputy Minister of Defence, Ministry of Defence and Veteren Affairs of South Sudan 
•    Ms Muska Dastageer, Lecturer at the American University of Afghanistan
•    Dr. Elisabeth Leiss, Head of Competence Center Rule of Law, Security, Human Rights and Gender, Deutsche Gesellschaft für Internationale Zusammenarbeit (GIZ) GmbH
Moderator:
Ms. Victoria Walker, Assistant Director, DCAF Geneva Centre for Security Sector Governance and Head of DCAF's International Security Sector Advisory Team
---
Podcast: Preventing Violent Conflict: The Role of Security Sector Governance and Reform (DCAF jointly with SSRU/OROLSI) 
Vincenza Scherrer, Deputy Head of the Policy and Research Division at DCAF and Badreddine El harti, a senior official with the UN Mission in Libya and until recently, the UN Special Advisor on SSR to the former President of Burkina Faso, reflect on what needs to be done differently to ensure that SSR support is used as a more effective tool for the prevention of violent conflict. 
---
Wednesday 9th March 10-11am EST (16h – 17h CET): Mitigating the Economic Impact of Peace-keeping Missions Drawdowns (DCAF & OECD) 
---
Thursday 10 March 11.30 – 12.30pm EST (17h30 – 18h30 CET): Multistakeholder Approaches to Fragility, Conflict and Violence in the Extractives Sector in Mozambique 
Mozambique possesses vast natural resources, raising hopes for sustainable economic and social development. However, the country is confronting an insurgency in the north, creating mass internal displacement and human rights abuses. Against this complex backdrop, commitment has emerged at the national and Cabo Delgado provincial levels to develop multistakeholder responses that draw on the combined efforts of government, civil society and the private sector.
DCAF and the ICRC work together within an international multistakeholder initiative, the Voluntary Principles on Security and Human Rights (VPs). In Mozambique, DCAF is partnering with the Centre for Democracy and Development, to initiate a VPs implementation process. This process seeks reinforce trust and collaboration across government, private sector, civil society and affected communities, enabling co-created approaches to improve security, human rights, and development in Cabo Delgado.  
Drawing on a diverse range of voices, the session will identify innovative approaches for effective private sector engagement and provide a specific focus on challenges and opportunities to reinforce multistakeholder responses to fragility, conflict and violence in Mozambique.
Speakers:
•   Dr. Alan Bryden, Head, Business and Security Division, DCAF (moderator)
•   Prof. Adriano Nuvunga, Director, Centre for Democracy and Development (CDD) 
•   Dr. Claudio Dinis Mate, Director for Human Rights and Citizenship, Ministry of Justice, Constitutional and Legal Affairs, Government of Mozambique
•   Ms Delphine Fauque, Community based Security Advisor, TotalEnergies
•   Ms Neelam Nizar Verjee, Senior Operations Officer, World Bank Mozambique