Understanding the role of vigilantes in delivering peace and security
When he was a boy Fola Aina wanted to be a doctor but when he realized that would limit him to helping one person at a time, he changed his focus. "Research and policy in peace and security issues has the potential to reach millions of lives and make the world a better place," he says. "Especially for the most destitute, most conflict-stricken communities."
It was the right choice. Aina is now a Doctoral fellow in leadership studies at the African Leadership Centre at King's College, and a non-residential fellow at the Notre Dame International Security Center. He's also winner of the first DCAF-sponsored Young Researcher Award for Good Governance and Integrity in Justice and Security Sector Reform for his research into the use of vigilantes in non-state policing in Northwest Nigeria.
IN HONOUR OF A SSG/R PIONEER
The Young Researcher Award was given out recently at a symposium organized by Partners West Africa – Senegal in honour of General Lamine Cissé, a Senegalese pioneer in security sector reform.
A champion of integrity in leadership, General Cissé focused on communities and the bond they have with security institutions like the police, military, and judiciary. He stressed the importance of strong and credible security institutions. Their legitimacy was, according to him, one of the major challenges for future African leaders.
Aina's research project touches on the heart of Cissé's concern about the credibility of security institutions and tackles a topic of great importance to DCAF: hybrid security situations and the legitimization of non-state security actors.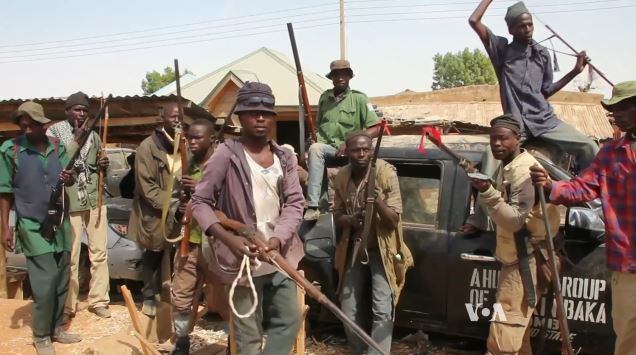 in Nigeria, vigilante groups have sprung up to protect local communities. Photo: VOA
WHEN THE STATE PARTNERS WITH VIGILANTES
In Nigeria, the government is fighting insurgents and violent extremists on several fronts. In the northwest of the country, after years of ongoing conflict among herder and farmer groups, vigilantes, criminal gangs, and jihadists, the government is stretched thin and struggles to fulfill its responsibility to provide peace and security for the population. Into this gap, vigilante groups have sprung up to protect local communities. Aina's research looks at how the government can partner with these groups to create new hybrid models of good security sector governance.
"These vigilantes are members of the host community. They know what the issues are, they know the terrain, so it just makes sense to work hand-in-hand with them to try to restore the peace," says Aina. "But in the event they are left unregulated, they have a tendency to create problems themselves." Thus, while the government is trying to partner with vigilante groups to bring about local solutions, at the same time they must ensure they're accountable to the communities they protect in order to maintain trust and legitimacy.
LOCAL LEADERSHIP IS KEY
Success depends on local ownership and community participation in the process. In the course of his research Aina will talk to local officials, community leaders, and the vigilantes themselves to try to understand and identify a locally-driven approach to managing their role in maintaining peace and security. Equally important, he'll look at the role of the state in ensuring they don't spiral out of control and create a whole new problem.
This understanding has the potential to impact far beyond the day-to-day security of communities, to the long-term prevention of violent extremism. "In the absence of accountability there is a tendency to feel animosity toward the state and to believe it lacks legitimacy," say Aina, "and that makes communities more vulnerable to recruitment by terrorists."
Aina believes that his research will help connect the reality on the ground with policy makers who can take the lessons of these communities and apply them to governance in hybrid security situations in other contexts in Africa, and beyond. "For me it is really important that local voices are heard when it comes to research of this nature," says Aina.
Anne Bennett, Head of DCAF's Sub-Saharan Africa Division agrees. "With this award we want to encourage researchers to go beyond traditional thinking about security reform and come up with new ideas for governance models," she says. "There is a need for a more intense link between theory and reality when it comes to peace and security in the region, and we think young African researchers like Aina are key to making that link."
Read more about the evolving analysis of hybrid security and a special case study on the situation in Libya in Exploring Armed Groups in Libya: Perspectives on SSR in a Hybrid Environment.
Fola Aina can be found on Twitter @folanski.