This event is over. Watch the recording on our YouTube channel.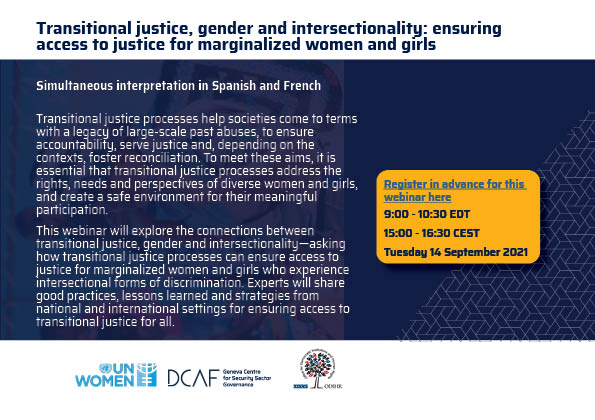 Transitional justice processes help societies come to terms with a legacy of large-scale past abuses, to ensure accountability, serve justice and, depending on the contexts, foster reconciliation. To meet these aims, it is essential that transitional justice processes address the rights, needs and perspectives of diverse women and girls, and create a safe environment for their meaningful participation.
However, experience has shown that women and girls, especially those who experience multiple forms of and intersectional discrimination, face numerous obstacles in accessing transitional justice processes as rightsholders, leaders and activists—requiring specific strategies and expertise to overcome.
This webinar will explore the connections between transitional justice, gender and intersectionality—asking how transitional justice processes can ensure access to justice for marginalized women and girls who experience intersectional forms of discrimination.
Experts will share good practices, lessons learned and strategies from national and international settings for ensuring access to transitional justice for all.
Speakers:
•    Mr. Javier Perez Salmeron, Human Rights Officer – International, Impartial, Independent Mechanism for Syria
•    Ms. Marcela Sánchez, Executive Director – Colombia Diversa
•    Ms. Rozafa Kelmendi, Transitional Justice Advisor – Office of the Prime Minister of Kosovo (UNSCR 1244) 
•    Mr. Aly Goro, Awareness Raising Councilor – Mali's Truth, Justice and Reconciliation Commission
To register for this event, click here
Languages: English, Spanish, French | Duration: 1.5 hours | Format: Zoom Webinar