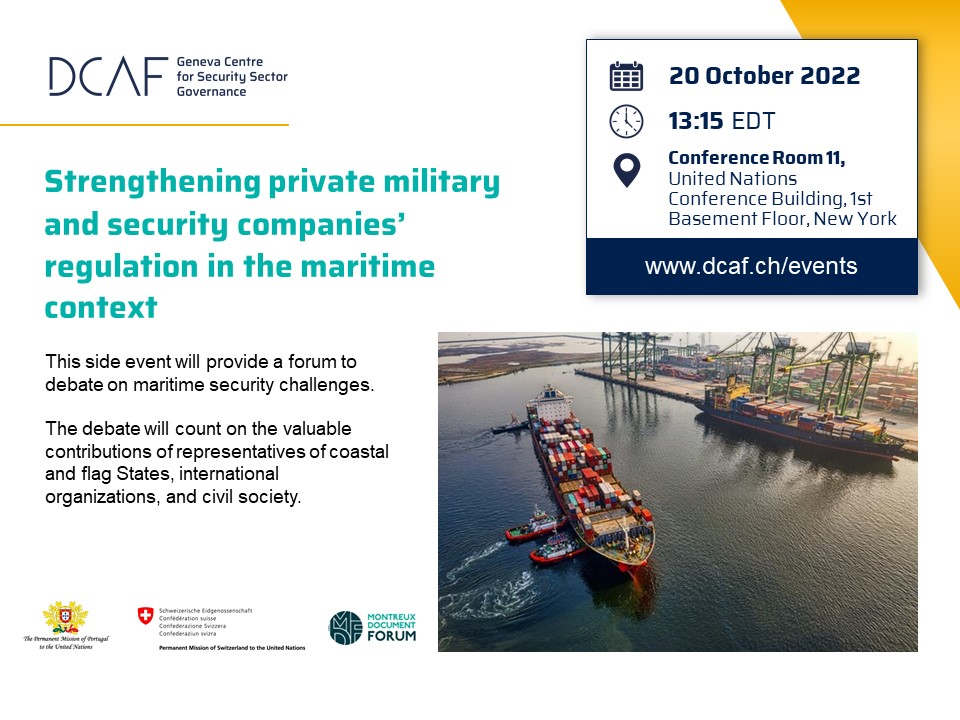 Maritime security is part of a holistic ocean governance and is critical to improving ocean resilience and the ability of nations to pursue the blue economy agenda. To this end, maritime security strategies are necessary to ensure the protection of the maritime space, improve the standard of living of coastal communities, and strengthen the ability of States to sustainably use their marine resources.
Private military and security companies (PMSCs) are now part of the landscape as they play an important role in providing maritime security services, including in response to the phenomenon of piracy. It is therefore necessary to address the challenges posed by such operations, including with respect to jurisdiction or the relationship between PMSCs and coastal States. In this regard, the Montreux Document and the Reference Document are important international instruments that should be considered by states and other stakeholders in dealing with PMSCs to serve as a starting point for this much needed discussion.
The purpose of this side event is to provide a forum in which these challenges are openly debated. For that, the debate will count on the valuable contributions of representatives of coastal and flag States, international organizations, and civil society.
Panel:
- Mateus Kowalski, Chair of the MDF Maritime Working Group
- Sorcha MacLeod, Chair of the UN Working Group on Mercenaries
- Jon Huggins, Maritime Advisor and Researcher, Stable Seas Program
- Evan M. Curt, Deputy Commissioner of Maritime Affairs, Marshall Islands
The event will take place on Conference Room 11, United Nations Conference Building, 1st Basement Floor in New York. It will be preceded by a buffet at 12:45 pm, next to the Vienna café with light refreshments.
Please register by Friday, 14 October 2022
Click here to join the conference online