This event is over. Watch the recording below or on our YouTube channel.
---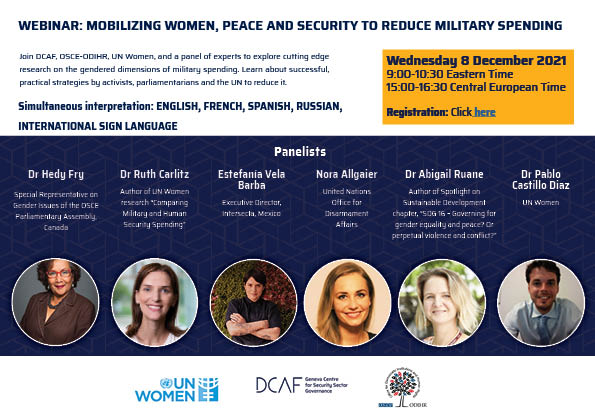 DCAF, UN Women and OSCE ODIHR are pleased to invite you to an online discussion on the links between gender inequality, women's participation, and military spending - and what this means for Women, Peace and Security policy and activism. 
Higher levels of military spending are correlated with lower levels of women's equality in terms of choice, agency and participation in decision-making. Military spending crowds out spending on sectors such as justice, health, education and infrastructure. Militarism is also, some argue, the biggest contributor to climate change, causing massive greenhouse emissions and impacts on social, cultural, and economic behavior. Poor security sector governance - limited transparency in military expenditures and weak civilian oversight - plays a critical role in excessive military spending.
Speakers will provide examples of success at national levels in reducing or constraining military spending, and the role that women's activism has played in these. The event will aim to answer the question: how can we strategically use women's presence to transform militarism and the global arms industry?
Panel:
- Dr Hedy Fry, Special Representative on Gender Issues of the OSCE Parliamentary Assembly, Canada
- Dr Ruth Carlitz, Author of UN Women research "Comparing Military and Human Security Spending"
- Estefania Vela Barba, Executive Director, Intersecta, Mexico
- Nora Allgaier, United Nations Office for Disarmament Affairs
- Dr Abigail Ruane, Author of Spotlight on Sustainable Development chapter, "SDG 16 – Governing for gender equality and peace? Or perpetual violence and conflict?"
- Dr Pablo Castillo Diaz, UN Women
Languages: English | Spanish | Russian | French | International Sign Language