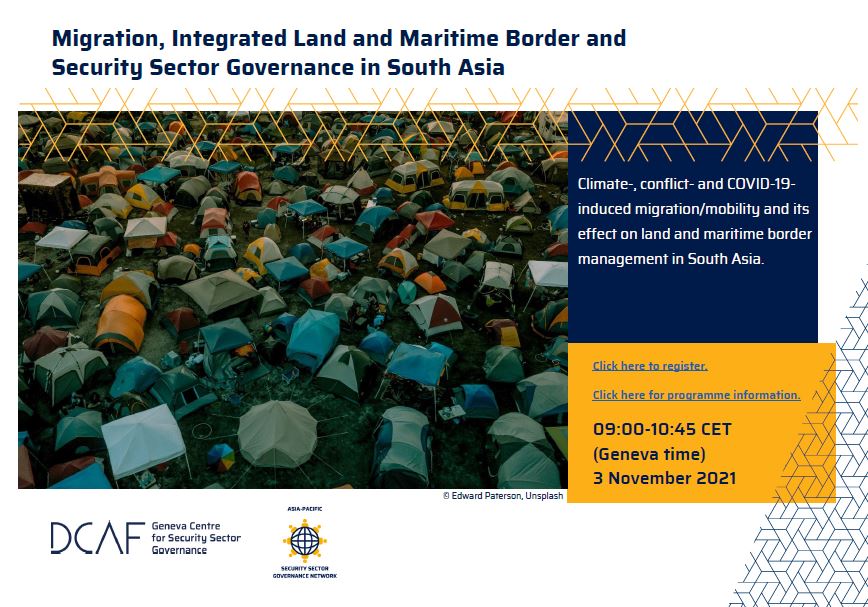 The webinar will share the findings and suggestions arising from the expert workshop "Migration, Integrated Land and Maritime Border Management and Security Sector Governance: Climate, Conflict and COVID-19-Induced Migration/Mobility and its Effects on Border Management and Security" organized by DCAF.
The workshop brings together experts from – Afghanistan, Bangladesh, Bhutan, India, Nepal, Pakistan, Sri Lanka, and the Maldives – with experts on migration, integrated border management and SSG from DCAF, international organizations (IOM – International Organisation for Migration, ICMPD - International Centre for Migration Policy Development, and IMO - International Maritime Organisation) and the region. 
Download the Speakers' bios

It explores 
-       The effects of climate-, conflict-, and COVID-19-induced migration and mobility on border management and security; 
-       the current challenges and opportunities for comprehensive border management in South Asia; 
-       the impacts of border governance for migrant and border communities in the region; 
-       and reflect on approaches that contribute to bridging gaps between national and regional responses to border management and security in South Asia.
 
The workshop is designed around a paper/publication on the same subject, which will be produced together with participating experts.
To register for this virtual event, click here