This event is over. Watch the recording below or on our YouTube channel.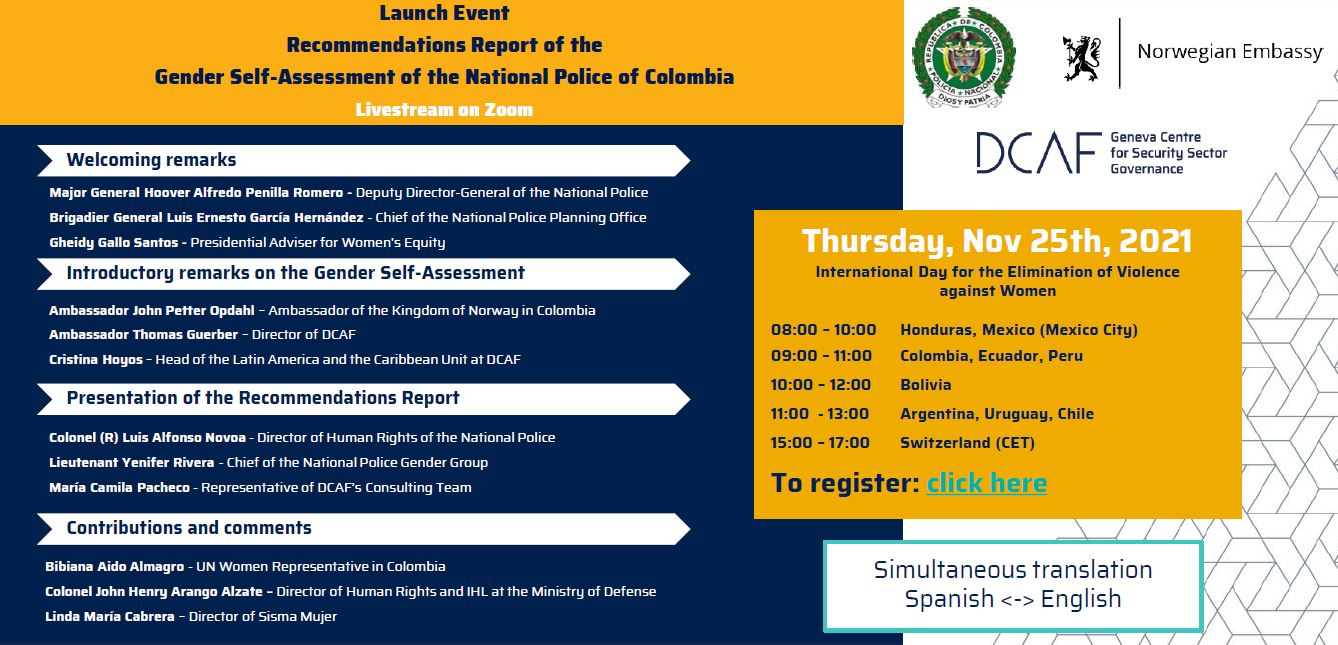 The National Police of Colombia and DCAF are pleased to invite you to the live broadcast of the Launching of the Recommendations Report of the Gender Self-Assessment of the National Police of Colombia.
The event will be broadcast live from the National Police Officers' Social Center in Bogota on November 25, 2021, on the occasion of the International Day for the Elimination of Violence against Women.
The Gender Self-Assessment (GSA) of the Colombian National Police is a process led by the police institution to diagnose its current status in terms of the integration and responsiveness of a gender approach that promotes the full and equal participation of women and men in the institution and that meets the differentiated security needs of men, women, boys and girls in Colombia.
The assessment was conducted in 2020 with the support of the Norwegian Ministry of Foreign Affairs and technical advice from DCAF. After a process of data collection related to gender mainstreaming, it identified the good practices that the institution implements, and the gaps that currently exist for full and effective incorporation of a gender approach.
The objective of this event is to present the GSA Recommendations Report to the community, which represents a key instrument for the modernization of the institution. Based on this report, the Police has been able to design and begin to implement a gender action plan, which will contribute to the fulfillment of the commitments made by the Colombian State at the national and international level to combat gender-based violence and discrimination, for the benefit of the Colombian population.
Join the conversation! Our panel will bring together State authorities, international representatives and representatives of civil society organizations.