This event is over. Watch the recording below or on our YouTube channel.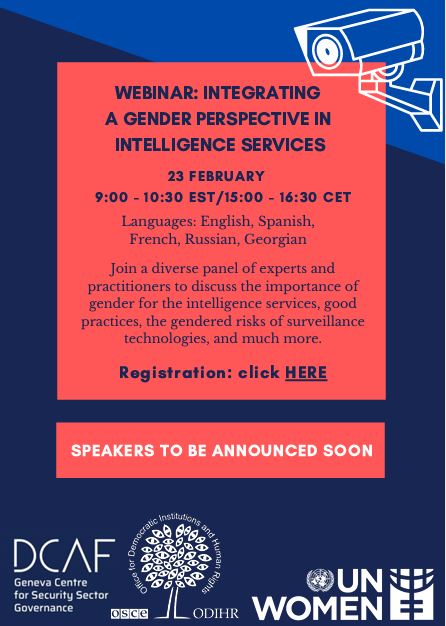 For intelligence services operating in increasingly complex environments, and with access to ever more sophisticated technologies, gender has a decisive role to play both in terms of operational effectiveness as well as accountability to international legal norms and standards on human rights.
Including gendered perspectives will ensure that intelligence services are receiving more accurate and specific information while also mitigating the risks that gender-blind approaches can have. Moreover, including women in greater numbers among intelligence personnel has its own host of benefits.
Many of these issues are tackled in Tool 14: Intelligence & Gender of the DCAF, OSCE-ODIHR, UN Women Gender and Security Toolkit. Addressing intelligence services, intelligence practitioners and intelligence policy-makers, and also parliaments and civil society, it outlines a vision of what intelligence services that integrate a gender perspective into their work and advance gender equality will look like.
Speakers:
- Aleksandra Bakrevska-Dodovska, Deputy Director of the Intelligence Agency of North Macedonia
Aleksandra Bakrevska-Dodovska is the Deputy Director of the Intelligence Agency of North Macedonia. Over two decades in the intelligence services, she has occupied other roles, including Head of the Department for International Cooperation, EU and NATO.  Bakrevska-Dodovska is qualified in the field of international relations and diplomacy, and has completed numerous international trainings and courses in the field of intelligence.
- Irene Poetranto, Senior Researcher, Citizen Lab
Irene Poetranto is a Senior Researcher for the Citizen Lab, an interdisciplinary research lab on digital technology and human rights at the Munk School of Global Affairs & Public Policy, University of Toronto. She is also a PhD Candidate in the Department of Political Science at the University of Toronto.
- Mark Dixon, Chief of Police Development Unit, OSCE Mission to Skopje
Mark Dixon has over 35 years of professional justice, policing and security experience, both in the United Kingdom and abroad, including with the United Nations Mission in Bosnia & Herzegovina; the European Union Rule of Law Mission (EULEX) in Kosovo and currently with the OSCE Mission to Skopje. As part of his law-enforcement experience in the United Kingdom, he worked on counter-terrorism matters, collaborating closely with the intelligence services. Dixon is a Master's graduate on Security, Conflict & International Development by the University of Leicester, where he wrote his thesis on the differences between gender mainstreaming and gender parity in the security sector.
- Sarah-Myriam Martin-Brûlé, Associate Professor at Bishop's University
Dr. Sarah-Myriam Martin-Brûlé has been researching, teaching, and publishing on UN peace operations in Africa, Peacekeeping Intelligence and gender for over 15 years. In 2017, she was hired by the UN Operations and Crisis Centre to draft the Joint Mission Analysis Centre Field Handbook released in 2018. In that same year, she was hired by International Peace Institute to write a report on Peacekeeping-Intelligence. Most recently, in 2021 she published "Competing for Trust: Challenges in United Nations Peacekeeping-Intelligence" in the International Journal of Intelligence and Counter Intelligence. 
Join ODIHR, DCAF and UN Women and a diverse panel of experts and practitioners to discuss the different angles of integrating a gender perspective into the work of intelligence services.
Languages: English, French, Georgian, Spanish and Russian.
To register for this virtual event, click here