The event will take place in FRENCH.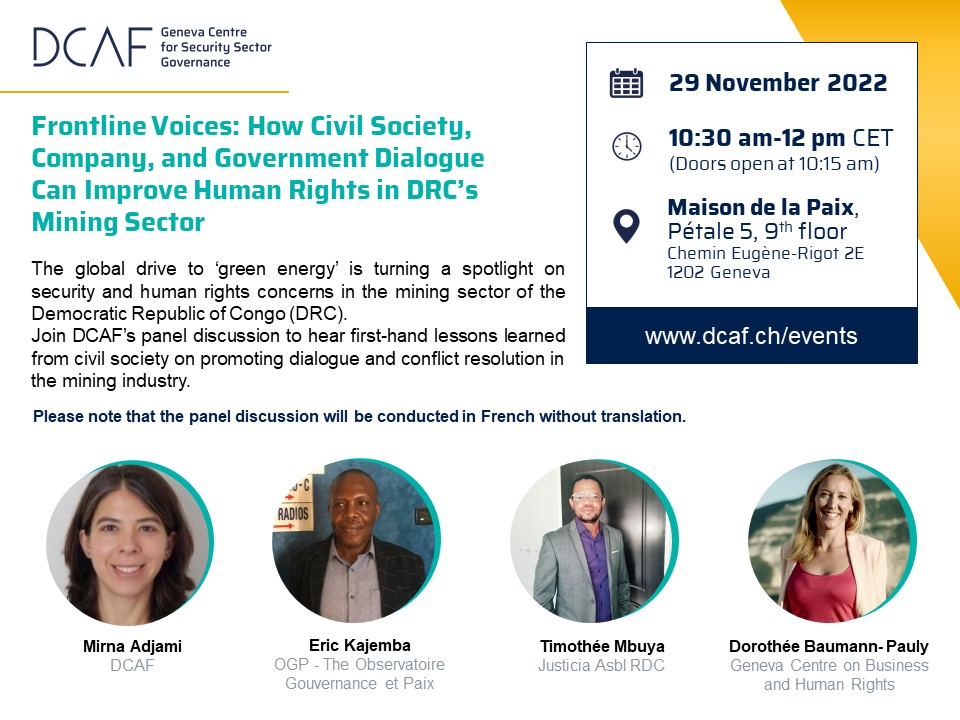 The global drive to 'green energy' is turning a new spotlight on longstanding concerns related to security and human rights in the mining sector of the Democratic Republic of Congo (DRC). Consumers are asking questions and companies are under increasing pressure to demonstrate that strategic minerals behind products like cell phones and electric vehicle batteries are sourced responsibly without fuelling conflict. 
Since 2018, DCAF has been supporting two leading Congolese civil society organisations (CSOs) from southern DRC's rich cobalt and copper belt and eastern DRC's "conflict minerals" zone to try an innovative approach: direct dialogue between companies, government officials and civil society. By working together, we have seen that this multistakeholder approach offers new possibilities, permitting the identification, monitoring, prevention and resolution of security and human rights concerns linked to the DRC mining sector. 
Two frontline human rights defenders from these CSOs will be in Geneva to share lessons learned from their experiences promoting dialogue and conflict resolution. Highlights include exploring how to improve identification and resolution of the worst forms of child labour on mine sites; training one of the largest Chinese industrial cobalt and copper miners on how to prevent and address human rights incidents, including conflict with artisanal miners; and leveraging the DRC Government's support for international standards like the Voluntary Principles on Security and Human Rights.  
Speakers:
- Eric Kajemba, Director, Observatoire pour Gouvernance et Paix (OGP), South Kivu, DRC
- Timothée Mbuya, Director, Justicia Asbl, Lubumbashi, DRC
- Dorothée Baumann-Pauly, Geneva Centre for Business and Human Rights
Moderated by Mirna Adjami, Principal Programme Manager, DCAF
Download the description of the event in French
Download the flyer in French