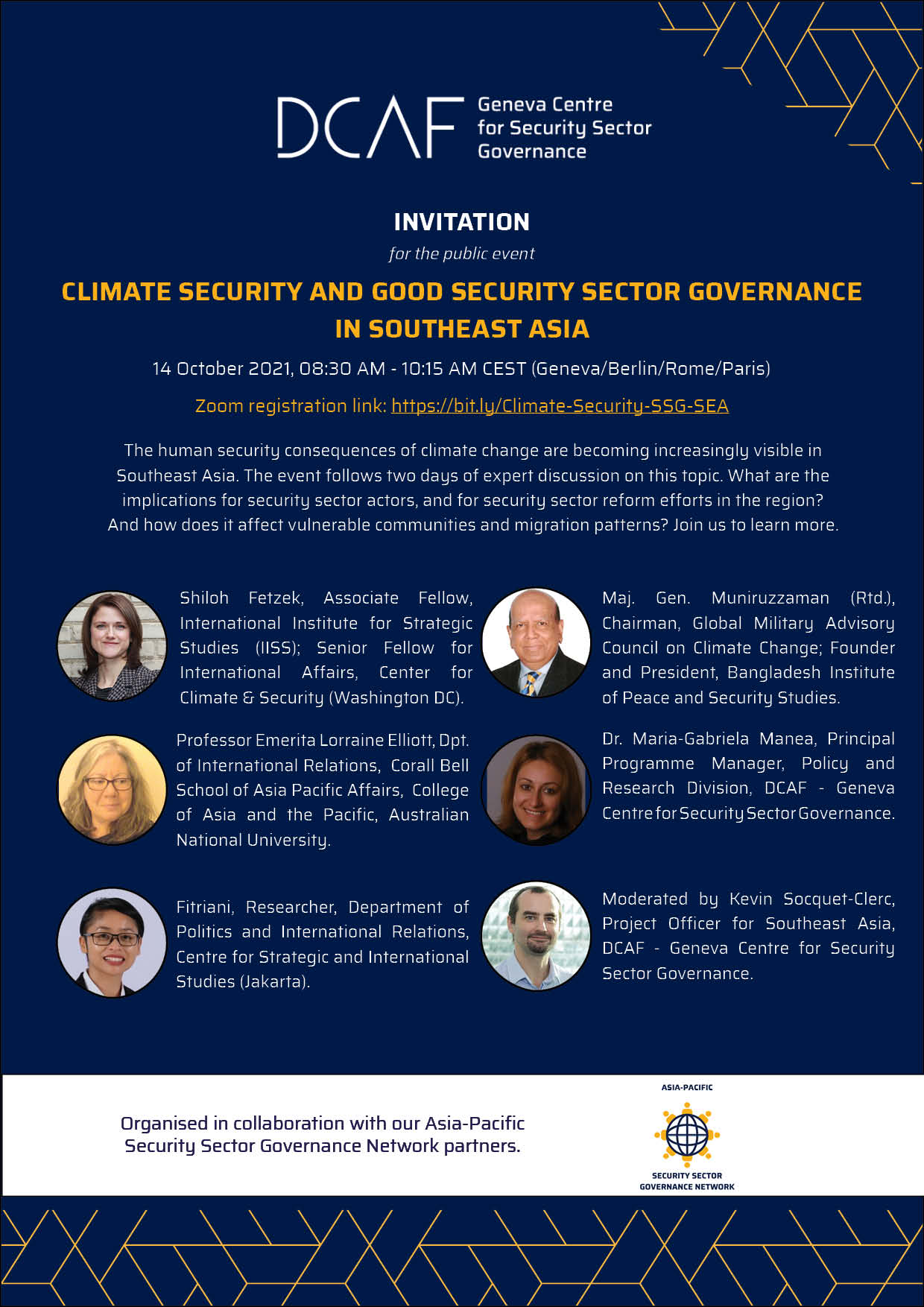 On 14 October from 8:30-10:15, DCAF will host a public event as part of its Asia-Pacific SSG Network activities. This event, titled "Climate Security and Good Security Sector Governance in Southeast Asia" follows a two-day discussion between regional and international experts on the impact of climate change on human security in Southeast Asia, and its consequences for security sector actors in the region.
The event is organised in cooperation with DCAF's partners in Southeast Asia. There will be time for participants to ask questions to the panellists.
In the preceding days, the experts will discuss:
-    Human security consequences of climate change in Southeast Asia;
-    Roles & responsibilities of security sector actors regarding climate security;
-    Climate change's impact on vulnerable communities and migration flows;
-    Climate security and security sector reform
 
The event will bring together academia and practitioners from both state and non-state institutions. It is one of the first of its kind in exploring the nexus between climate change and SSR in Southeast Asia.
Speakers:
-    Ms. Shiloh Fetzek, Associate Fellow, International Institute for Strategic Studies (IISS); Senior Fellow for International Affairs, Center for Climate and Security (Washington DC).
-    Professor Emerita Lorraine Elliott, Department of International Relations, Corall Bell School of Asia Pacific Affairs, Australian National University.
-    Dr. Fitriani, Researcher, Department of Politics and International Relations, Centre for Strategic and International Studies (Jakarta).
-    Maj. Gen. Muniruzzaman (Retd.), Chairman, Global Military Advisory Council on Climate Change; Founder and CEO, Bangladesh Institute of Peace and Security Studies (BIPSS).
-    Dr. Maria-Gabriela Manea, Principal Programme Manager, Policy and Research Division, DCAF - Geneva Centre for Security Sector Governance.
-    Mr. Kevin Socquet-Clerc, Project Officer for Southeast Asia, DCAF - Geneva Centre for Security Sector Governance (moderator).
To register for this virtual event, click here