This event is over. Download the report or read the below resources to learn more about our work on climate change 
RESOURCES
You were not able to join us? Download the WEBINAR REPORT
If you want to learn why climate change is a security issue, read our BLOG
For an in-depth analysis of the climate-security nexus and its implications for SSG/R, please see the Geneva Global Policy Brief on 'The Security Sector and Climate Change'
UNOG-DCAF Seminars XVIth edition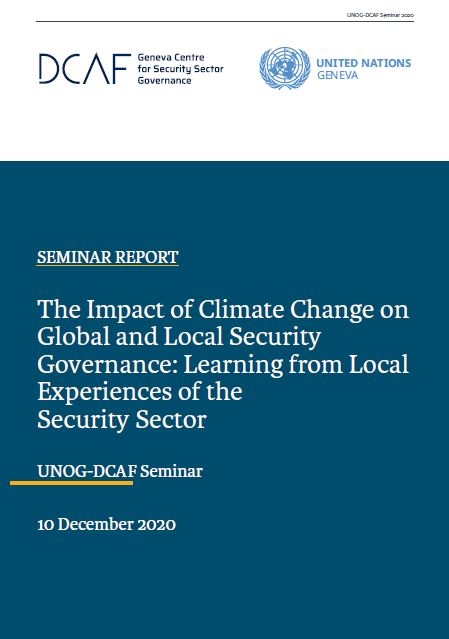 The United Nations Office in Geneva (UNOG) in collaboration with the Geneva Centre for Security Sector Governance (DCAF), have the pleasure to invite you to a seminar on the role of "good governance" of the security sector in preventing, mitigating and responding to the impact of climate change at both global and local levels. The seminar will take place on Thursday, 10 December 2020, from 15:00 to 16:30 as a virtual meeting through Cisco Webex.
Acknowledging that climate change is a multi-layered and challenging issue cutting across the fields of peace and security, human rights, and energy and sustainable development, this joint UNOG-DCAF seminar will explore how climate change impacts security sector governance and reform(SSG/R). In particular, it aims to derive lessons from local experiences of security sector actors in order to adapt and strengthen "good" governance of the security sector in dealing with climate change impact as well as to inform multilateral climate security policy approaches.
 


About the UNOG-DCAF Seminars
Starting in 2003, the United Nations Office at Geneva and DCAF jointly host annual seminars on various aspects of security sector governance. These meetings have served to raise awareness of the complexities and challenges before the international community in this area and have produced practical proposals to inform and guide future efforts.