This event is over. Watch the recording below or on YouTube.
DOWNLOAD the panel report
Climate-security risks, such as extreme weather events, environmental degradation, and resource scarcities, can increase the likelihood of violent conflict, humanitarian crises, forced displacement and migration, as well as open space for environmental crimes and radicalization. However, they also present opportunities for state and non-state actors to develop cooperative, inclusive, and sustainable "climate-security" practices, thereby contributing to environmental peacebuilding. This panel highlights opportunities for environmental peacebuilding through tackling climate security risks. Specifically, the panel discusses the role of regional water cooperation, peace operations, militaries and security sector governance in addressing climate-security risks and presents best practices and lessons learned.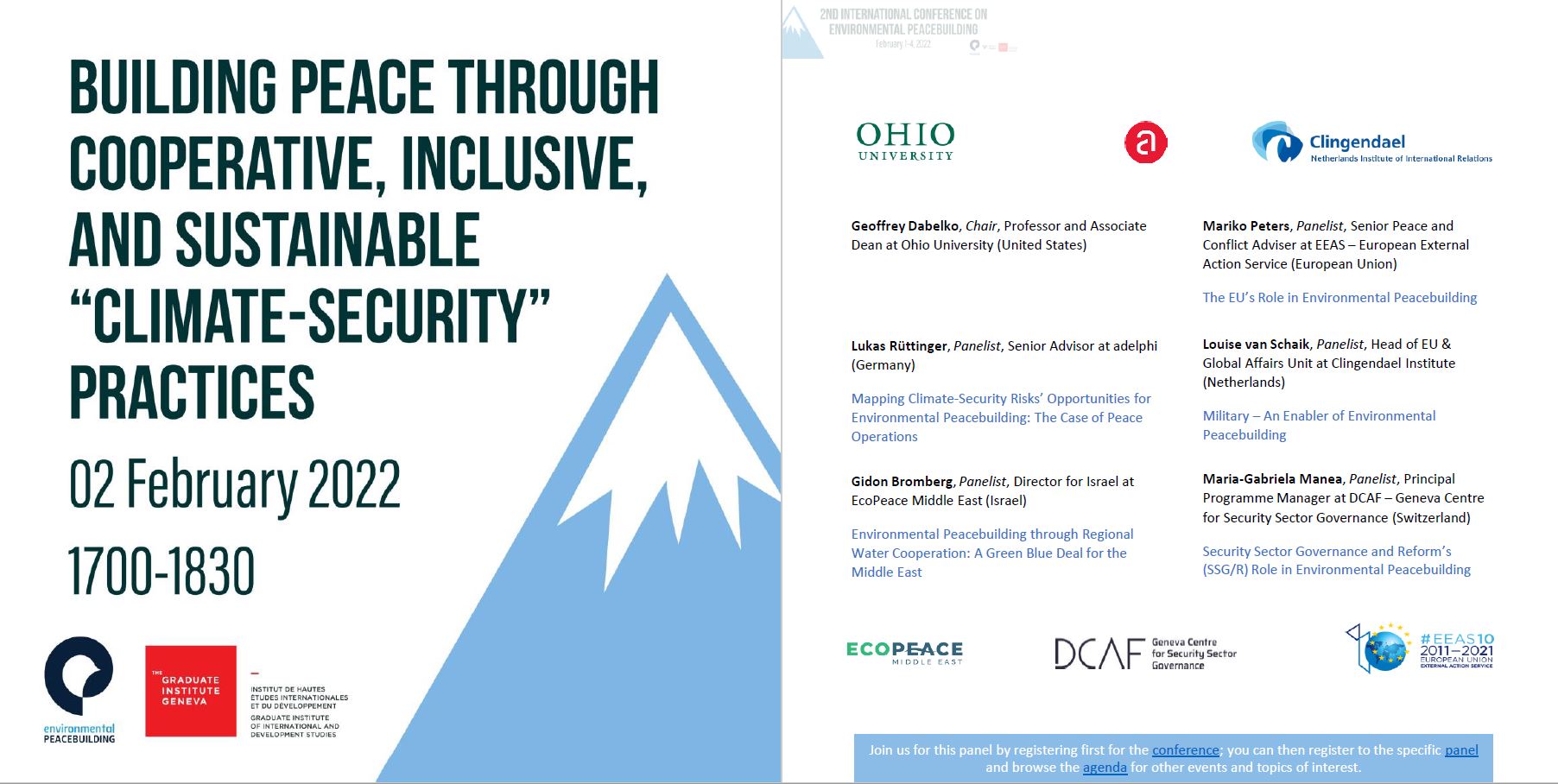 Geoff Dabelko, Chair, Ohio University (United States)
Mapping Climate-Security Risks' Opportunities for Environmental Peacebuilding: The Case of Peace Operations
Lukas Rüttinger, Panelist, Adelphi (Germany)
Environmental Peacebuilding through Regional Water Cooperation: A Green Blue Deal for the Middle East
Gidon Bromberg, Panelist, EcoPeace Middle East (Israel)
The EU's Role in Environmental Peacebuilding
Mariko Peters, Panelist, Senior Peace and Conflict Adviser at EEAS European External Action Service ( European Union)
Military - An Enabler of Environmental Peacebuilding
Louise van Schaik, Panelist, Clingendael Institute (Netherlands)
Security Sector Governance and Reform's (SSG/R) Role in Environmental Peacebuilding
Dr. Maria-Gabriela Manea, Panelist, DCAF-Geneva Center for Security Sector Governance (Switzerland)