This event is over. Watch the recording below or on our YouTube channel.
DCAF organises a webinar series addressing the contemporary use of Private Military and Security Companies (PMSCs) in armed conflicts and complex environments and highlighting possible approaches to strengthen their regulation. After the first episode (in October 2021), the series will continue with context-specific webinars, beginning with Haiti.
In light of the fragility and insufficient public security provision in Haiti, national actors have been relying among others on PMSCs to provide them with security services. While the exact nature of their implication remains unclear, PMSCs were for example clearly present around the July 2021 assassination of the Haitian head of state. Despite the unclear circumstances, the incident highlights the need to discuss strengthening the regulation of private military and security services in Haiti and in the Americas more broadly.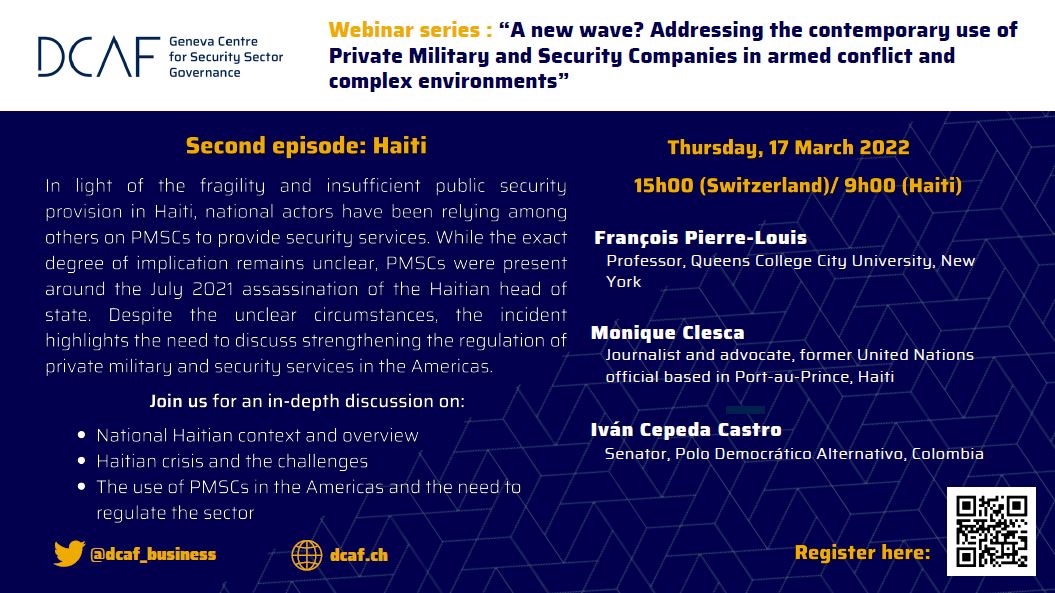 The webinar will allow for a specialised discussion on: 
- National Haitian context and overview 
- Haitian crisis and the challenges
- The use of PMSCs in the Americas and the need to strengthen the regulation of the sector