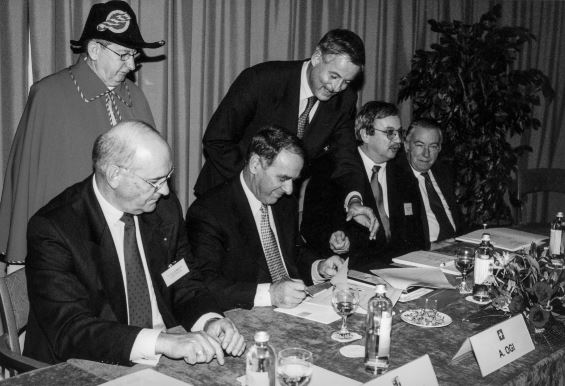 In 2000, at a ceremony in Geneva, the President of the Swiss Confederation, Adolf Ogi, and founding Director of DCAF, Dr. Theodor Winkler, signed our Founding Act. Twenty-two states and the Canton of Geneva joined Switzerland in forming DCAF's first Foundation Council.

In the years since, DCAF has become a globally recognized and respected 'think and do tank, providing expertise to security sector reform and governance initiatives in more than 80 countries. Our Foundation Council now has 60 member states, and more than 200 staff work in Geneva and 13 field offices on four continents. 

In 2020 we celebrated these 20 years of innovation in policy and practice. 20 years of strengthening support for good governance. 20 years of helping to lay the foundation for peace and sustainable development. 
Our Member States 

DCAF SSG/R Champions
In celebration of DCAF's 20th anniversary, we highlighted some of our many partners who have made extraordinary contributions to the field of security sector reform and good governance in their countries. 
From our Friends and Partners
Over the last 20 years we have worked with many valued partners, donors, friends, and supporters who share our vision of a world in which effective and accountable security sectors provide the foundation for sustainable peace and development. We are very honored to have some of them offer their words of appreciation and support on the occasion of our 20th anniversary.